Play 40 Super Hot Slot
Play 40 Super Hot Slot
4.9
Rating /
13
votes
Software:

The casinos themselves don't produce any games. They lease them from game providers.

EGT
Year Released:
2014
Volativity:

Slot volatility shows how often a slot triggers a win and the typical size of the wins.

Low
RTP:

A slot machine's return-to-player percentage, or RTP for short, is the measure of money a player can expect to win or lose over time.

95.81%
Pay Lines:

Paylines are the lines on which a payout is awarded. Modern slots feature many symbols, and payouts can line up in various patterns for a win.

40 Lines
Max Win:

A machine's max payout is the highest amount of money it can pay out to a player during one spin.

20000x max bet
Reels:

Number of reels in the slot.

5
Min coins per line:
1
Min coin size:

Minimum coin denomination.

0.01
Max coin size:

Maximum coin denomination.

0.1
Type:

The group to which a slot belongs according to features.

Video Slot
Game Theme:
Fruits Slots
Progressive:

A jackpot that increases with each bet placed by players across the provider's network or at casinos offering this game.

No
Wild:

Symbols that can be substituted for all other symbols on the reels, except Scatter and bonus. This increases your chances of winning.

Yes
Scatter:

Special symbols that have varying functions, depending on the game (and can be used to trigger Free Spins rounds).

Yes
Autoplay:
Yes
Multiplier:

Multiplies the amount of winnings by a predetermined figure.

Yes
Bonus Game:

Mini-games within online slots, triggered either by landing a predefined combination of symbols or randomly.

No
Gameplay Video:
40 Super Hot Slot Review
40 Super Hot online slot represents Fruits themed slots. It is a video slot with 5-reel, 40 pay-line, good graphic design as well as community of slot fans. This game is a trip back in time to the old Fruit Slots at casinos. The sounds and graphics are just like those you remember from 20 years ago. The analog-style background, with its textured wooden pattern, brings out the blue playing surface to create a classic feel. In Nodepositslots.org you can play 40 super hot slot free by clicking the play button above.
40 Super Hot Slot Demo
You can check the video below to watch the 40 Super Hot gameplay: 40 Super Hot Demo
How to Play 40 Super Hot Slot Free?
Because of its variable payoffs and standard strategies, Blackjack is a game that can be made to work for you. Although the variability in jackpot rewards isn't high, there are four different kinds of reward options – including minimum and maximum coin sizes. When the "gamble" option is available on a spin, use it to bet more and increase your payout. Also keep an eye out for which paylines are winning.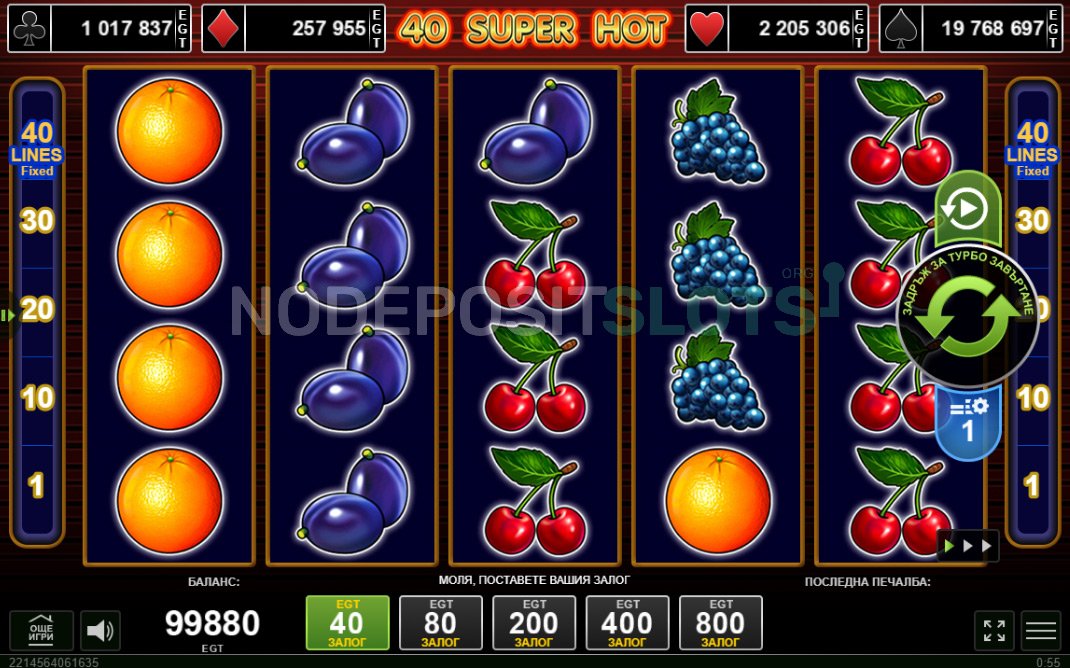 Playing 40 Super Hot Slot Free is as easy as it gets. Whether you're a seasoned slot player or new to the world of online gambling, you'll have no trouble getting started. Here's a step-by-step guide on how to play:
1. Choose Your Bet Amount
Before you start spinning the reels, you'll need to choose your bet amount. In 40 Super Hot Slot Free, you can adjust the bet per line and the number of active paylines. The minimum bet per line is typically one credit, while the maximum can vary depending on the casino. It's important to note that your total bet per spin is calculated by multiplying the bet per line by the number of active paylines. So, make sure to set your bet amount according to your budget and playing preferences.
2. Spin the Reels
Once you've set your bet amount, it's time to spin the reels. Simply click on the spin button, and the reels will start spinning. Sit back, relax, and watch as the symbols come to life. The outcome of each spin is determined by a random number generator (RNG), ensuring fair and unbiased results. You can also use the autoplay feature if you prefer to sit back and let the game do the work for you. Just set the number of spins you want to play automatically, and the game will take care of the rest.
3. Watch for Winning Combinations
As the reels come to a stop, keep an eye out for winning combinations. A winning combination is formed when you land a specific set of symbols on an active payline. The paytable, which can be accessed within the game, will show you the different winning combinations and their corresponding payouts. The more valuable the symbols and the longer the winning combination, the higher the payout. If you're lucky enough to land a winning combination, the game will automatically credit your winnings to your account balance.
4. Bonus Features and Gamble Feature
In addition to the base game, 40 Super Hot Slot Free also offers exciting bonus features that can boost your winnings even further. Keep an eye out for the scatter symbol, as landing three or more will trigger the free spins feature. During the free spins, all wins are doubled, giving you the chance to win big. The game also includes a gamble feature, where you can gamble your winnings for a chance to double them. However, be careful, as the gamble feature is a game of chance and could result in losing your winnings.
These are the basic steps to playing 40 Super Hot Slot Free. The game is designed to be user-friendly and accessible to players of all skill levels. So, whether you're a casual player looking for some fun or a high roller chasing big wins, 40 Super Hot Slot Free has something to offer.
What is the RTP of 40 Super Hot?
Return To Player is the ratio of money a machine will pay out, in relation to what you paid into it. It's calculated as a percentage – so that number gives you your average return on every 100 credits played through. This slot machine has a return-to-player rate of 95.81%, which falls squarely in the middle of other games in this category. It's medium volatility, meaning that there are frequent but not huge payouts. 40 Super Hot is the kind of slot that will entertain for ages. Plus, with its new gamble feature – which can yield some tidy wins – it's even more fun than most slots out there.
Game Features & Symbols
This game, based around the traditional fruit theme we know and love, provides 40 paylines across a five-by-four grid – in contrast to regular three or four reels. There are also wild, scatter symbols and multiplier options throughout the play, which just add to the enjoyment of both experienced as well new online casino players.
In the rotating 40 Super Hot, you'll find one of the slot game's oldest and most successful themes: fruit. There are six different types, each with its own value depending on how many appear on a line. The slot machine includes 40 winning combinations and is detailed in the information menu.
Cherry, lemon and orange — they all pay the same regardless of where they appear on a line. With maximum bet (of 2400), we can win from 600 for 3 symbols of kind to 6000 for the entire row
Grapes – with a profit from 1200 to 24000 at an optimal bet
Watermelon and Blue Plum – they have a profit of 1,200 to 12,000 at the maximum bet
Star – This is the Scatter symbol is the most important symbol in the game and can't be replaced. It pays out better than any other symbols, at maximum bet we get from 12000 to 120000 if it appears alone on reels
Seven – The Wild symbol. It can substitute any other symbol, except the star, to make a winning combination. The maximum bet allowed on each of these lines is from 2,400 coins up 60 thousand.
Best Online Casinos to Play for Real Money
Here is a top 3 list of the casinos, that are powered with the EGT slots. There you can find the game and play it with real funds when deposit and get the startup bonus
Demo or Play-For-Real Mode?
This game is deliberately retro in its design, and so it feels like a vintage-style slot machine. For this reason, you can get a pretty good sense of how it works without risking any money on the free version – which looks very much like what you'd find at casinos. You can play for free and then, if you like the game, pay to upgrade.
Tips and Strategies for Winning
While winning at slot machine games like 40 Super Hot Slot Free is ultimately a matter of luck, there are a few tips and strategies that can help increase your chances of winning. Here are some tried-and-true techniques to keep in mind:
1. Set a Budget
Before you start playing, it's essential to set a budget and stick to it. Determine how much money you're willing to spend on the game and never exceed that amount. Slot machine games can be incredibly fun and exciting, but they should never be played with money that you can't afford to lose. Setting a budget will help you stay in control of your finances and ensure that your gambling experience remains enjoyable.
2. Play Maximum Paylines
In 40 Super Hot Slot Free, playing the maximum number of paylines will give you the best chance of hitting a winning combination. While it may be tempting to play with fewer paylines to save money, doing so significantly reduces your chances of winning. By playing all the available paylines, you maximize your opportunities to land winning combinations and increase your overall payout potential. So, if you're serious about winning, it's always best to play with the maximum number of paylines.
3. Take Advantage of Bonus Features
40 Super Hot Slot Free offers several bonus features that can significantly boost your winnings. The free spins feature, triggered by landing three or more scatter symbols, is particularly lucrative. During the free spins, all wins are doubled, giving you the chance to win big. Additionally, the game includes a gamble feature, where you can gamble your winnings for a chance to double them. While the gamble feature is a game of chance, it can be a thrilling way to increase your winnings if you're feeling lucky. So, be sure to take advantage of these bonus features and maximize your chances of winning big.
4. Play Responsibly
Above all, it's essential to play slot machine games responsibly. Gambling should be seen as a form of entertainment, not a way to make money. Set realistic expectations and remember that winning is never guaranteed. It's also crucial to take breaks and avoid chasing losses. If you find yourself getting caught up in the excitement and losing control, it's time to take a step back and reevaluate your gambling habits. Always prioritize your well-being and seek help if you feel that your gambling habits are becoming problematic.
By following these tips and strategies, you can enhance your gaming experience and increase your chances of winning at 40 Super Hot Slot Free. Remember, luck plays a significant role, but a little bit of strategy can go a long way.
40 Super Hot FAQs
Who is the developer of 40 Super Hot?
This game is made possible by EGT, which has been developing software for over two decades.
What are the payouts?
The highest payout is a guaranteed 400,000 credits. There are other payouts of varying value that increase depending on the size of your initial wager.
Can I play 40 Super Hot for free?
You can play Super Hot 40 free online, wherever you have an internet-capable device.
What is the RTP of the Game?
40 Super Hot has RTP of 95.81%. This is an average measurement of the percentage of money players will receive back from playing a game.
Are there free spins?
The progressive jackpot is the only bonus feature in this slot: it's a huge reward for players who bet large amounts and have luck on their side.
How many paylines are there?
There are 40, over 5, reading from left to right.
Where can I play 40 Super Hot?
You can play 40 Super Hot at any licensed casino which stocks EGT games. You can find the perfect online casino for 40 Super Hot at our list of favorite online casinos.
Where to play 40 Super Hot for real money?
40 Super Hot is available at casinos with EGT slots.
How to win playing 40 Super Hot?
This is a certified slot that generates random outcomes, and all you need is a good luck. Find the paytable to see out how and how much you can win.
Can I play 40 Super Hot slot on mobile phone?
Yes, this game is mobile friendly and can be loaded on any device.
How many reels 40 Super Hot Slot have?
Games with similar RTP
| Slot | RTP | Paylines |
| --- | --- | --- |
| Necromancer slot | 91,50% | 40 |
| 2 Million B.C. slot | 91,94% | 30 |
| Legends of Ra slot | 92,20% | 9 |
| 7 Monkeys slot | 92,71% | 7 |
| Fruit Bonanza Slot | 93,00% | 9 |
| 40 Super Hot | 95,81% | 40 |
| Zombirthday Slot | 95,86% | 10 |
| Amazon Queen Slot | 95,90% | 20 |
| All American Slot | 95,90% | 0 |
| Spartacus Slot | 95,94% | 100 |
| 3888 Ways of the Dragon slot | 95,95% | 3888 |
---
Already played 40 Super Hot for free?
---
Last update by James Sawyer :
---