Starzpartners – BitStarz Casino Affiliate Program
Info Reviewed & Verified by James Sawyer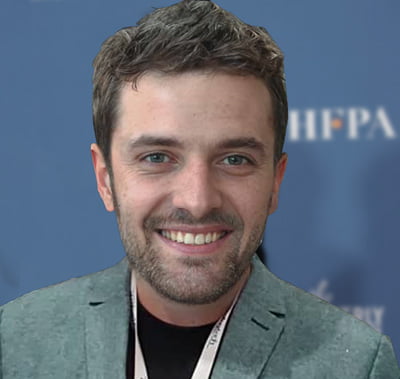 Bitstarz is a popular crypto gambling site that offers affiliates a 40% commission. It has more than 2 million players, 3,200 games and 24/7 support.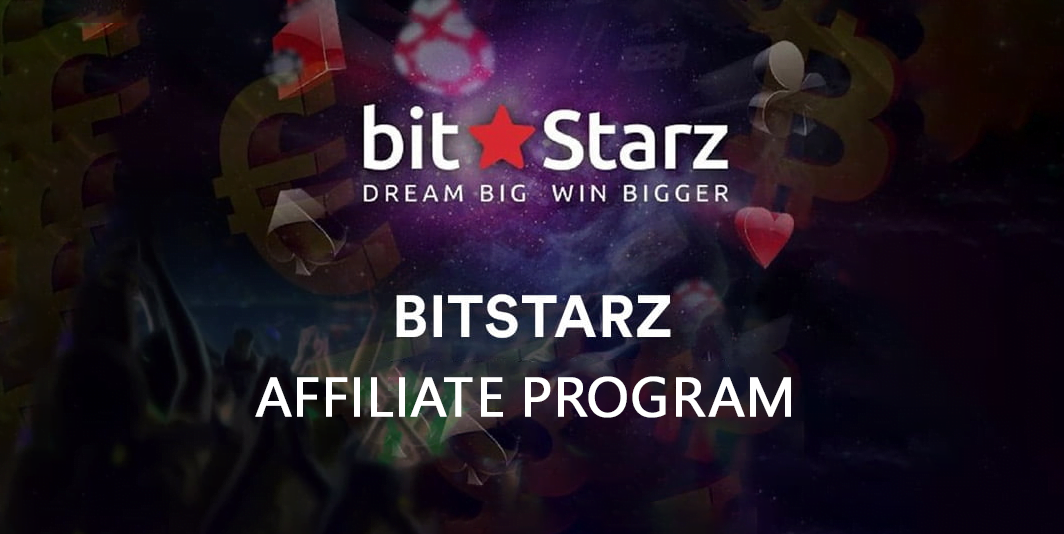 BitStarz Casino Affiliates
Like all affiliate programs, Starzpartners has some unique details to know before joining. Here's a quick overview:
Starz Partners run the BitStarz casino affiliate programme. The programme's website is simple and easy to use–both for new players and veterans of online gambling. After you load the site, you'll see a "Join" button in the top right-hand corner. Clicking on this link gives you an easy-to-fill-out registration form.
To earn at BitStarz Partners, you need to start marketing the casino. You'll earn a commission for every new player you refer (up to three). And your earnings depend on the net revenue generated from these players.
BitStarz offers a range of marketing tools, including banners, charts and tracking links.
How To Join BitStarz Affiliates?
To become a BitStarz Partner, follow these steps:
To begin, load the BitStarz Partners official website.
Click the green 'Get started' button on the top right corner to get started.
Enter your contact information and the type of promotion you would like to do, then click Continue.
Next, enter your email address and password, then click "I Agree".
Finally, click the button to sign up.
Once your application is complete, a personal affiliate manager will help you market your link.
What are the Commissions at Starz Partners?
When you become a Bitstarz partner, you'll be able to earn a commission on the new customers you refer. See how much you can earn below: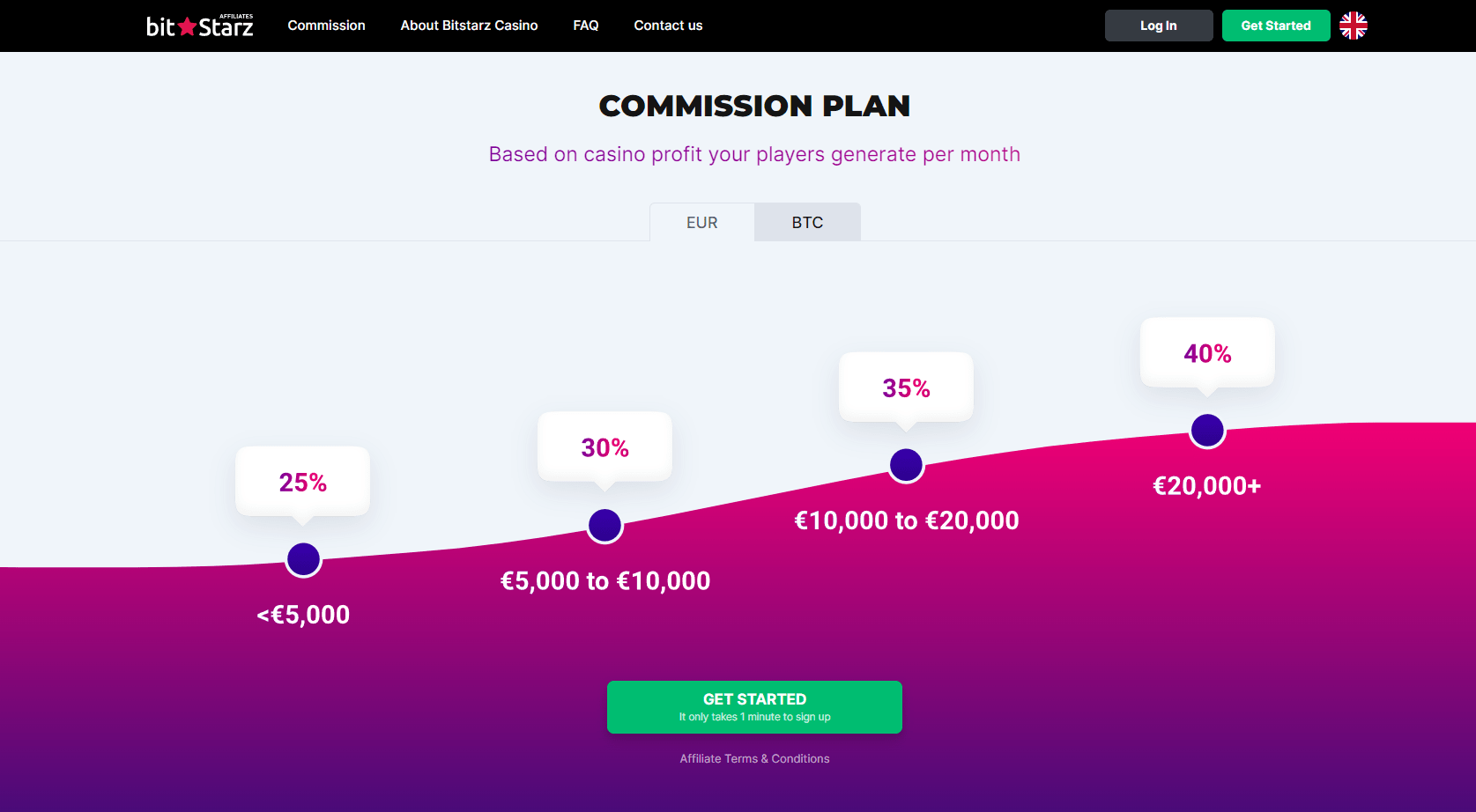 The above table shows the amount you will win at the casino, depending on how much your new players bring in. Therefore, you need to recruit more people to earn more money.
Partnership Types
BitStarz casino offers many types of affiliation programs. These include:
BitStarz Affiliation
This is the main type of partnership. It exists between BitStarz and its partners; the partners can hire other partners to market BitStarz casino products.
RevShare
RevShare is an arrangement in which partners share the revenue they get from their BitStarz accounts.
The casino pays an affiliate a percentage of the money it gets from new players that the affiliate brought in.
Sub-Affiliation
Sub-affiliates are affiliates who market the casino on behalf of another affiliate. In this arrangement, sub-affiliates do not report to the casino directly; rather, they must report to their own direct affiliate manager.
One affiliate may have multiple sub-affiliates working for them.
BitStarz's affiliate program enables affiliates to earn commissions by referring new customers to the casino.
Currently, BitStarz does not allow sub-affiliates. However, it is possible to become one. Sub-affiliates should discuss their commission revenue with the affiliate managers.
To view and manage your sub-affiliates, go to the Reports menu and select Sub-Affiliates.
CPA
Cost-per-action (CPA) is a model in which BitStarz pays affiliates for any action taken by customers. If a potential customer clicks on an affiliate's link, the affiliate receives a commission for that click.
In addition, BitStarz does not use this model in its programme. It would be expensive for the casino to provide commissions on every click-through from its advertisers' websites because many punters click betting products without signing up.
Hybrid
BitStarz casino affiliates programme does not use the hybrid commission payment model.
Since the casino pays its partners the revenue it gets from new sign-ups, it costs the casino money to get new customers.
Pros and Cons of the Affiliate Program
Bitstarz is a great name. It has been licensed by an independent gaming commission, which has helped to make it well-known among players.
Positives
Provide players with the tools they need to make their own marketing materials.
The 5th of every month is payday.
Allow sub-affiliation
Allow a range of currencies
It's also a great way for partners to get useful statistics about their programme.
No negative carryovers
Negatives
No CPA, CPL, or hybrid payments are accepted.
The minimum withdrawal amount has been set at $10,000.
Who Can Join Bitstarz Partners?
Starzpartners welcomes many new partners every year. Registration is easy and can be done by providing the necessary information.
In addition, all affiliates need to have a website, social media profile or blog where they can market BitStarz casino. Therefore, bloggers and social media stars are ideal candidates for BitStarz affiliate program.
The Bitstarz affiliate programme offers the following benefits:
Sign up for an account by filling out the form provided.
To take part in this programme, you will need to verify your identity.
You need to keep your site up-to-date and promote it regularly.
Also, you must use approved marketing materials when promoting your business.
Your marketing activity should be professional, but it should also be friendly and inviting.
We hope you have enjoyed learning about the Bitstarz affiliate programme and wish you luck with your promotion.
What Affiliate Marketing Resources are There?
Marketing materials include the following:
Banners
Charts
Marketing Links
Posters
Video content
Brand guide
Tracking links
BitStarz provides you with the materials to make your own videos, but it guides you through the process of making them. You can also modify the materials to fit your audience's needs.
What are the Payment Details?
The BitStarz affiliate programme offers a range of payment options so that you can promote the casino and earn money while doing so.
The first of each month, all payments are processed. Euro and Bitcoin are two examples of the many currencies accepted by the affiliate program. There is a wide range of payment methods accepted, including Neteller, Skrill, Visa and EcoPayz.
In addition to these options, you can use other payment processors such as NeoSurf and Interac.
How can I contact Starz Partners?
When you have a problem with your account, you can contact our support team through the following details:
Skype: Srdjan.Kapor
Telegram: srdjankapor
On-site messaging available
FAQs
If you have questions or concerns about your account, you can contact your account manager.
What are the Target Markets? (Allowed Countries)
The BitStarz Casino affiliate programme is available to many people. However, it is only available in 22 countries globally. Below we have listed some of these countries:
Canada
New Zealand
Spain
India
Russia
Finland
Nigeria
Germany
Brazil
Uganda
South Africa
Comoros
Tanzania
Cameron
Fiji
Bulgaria
Cape Verde
Curacao
Argentina
Japan
Australia
Poland
Switzerland
Kenya
FAQs
What is the Bitstarz affiliate program?
The Bitstarz affiliate program is a partnership opportunity that allows individuals and businesses to earn commissions by promoting Bitstarz, a popular online casino, to their audience.
How much does it cost to join StarzPartners?
Signing up to be a BitStarz affiliate is free. Thus, you won't have to pay anything to join.
How much can I earn as a Bitstarz affiliate?
Earnings for Bitstarz affiliates depend on the revenue generated by the players you refer. The commission structure is based on a tiered revenue share model, which can range from 25% to 40% of the net revenue generated by your referred players.
Will I get paid in Bitcoin as a BitStarz affiliate?
Yes, you can choose the currency in which you want to be paid. Therefore, you can be paid in BTC.
Can I join Starz Affiliates if I don't own a website?
Yes, you can join BitStarz affiliates if you don't have a website. You can get in touch with us and we'll help you get started.
How can I create affiliate links?
To generate affiliate links, visit your affiliate page and click 'Create New Campaign'.
How do I track my referrals and earnings as a Bitstarz affiliate?
As a Bitstarz affiliate, you will have access to a comprehensive dashboard where you can monitor your referrals, earnings, and other performance metrics. The dashboard provides real-time data and reporting tools to help you optimize your marketing efforts.
Can I refer other affiliates to the Bitstarz affiliate program?
Yes, Bitstarz offers a sub-affiliate program that allows you to earn additional commissions by referring other affiliates. You can earn a percentage of the revenue generated by the affiliates you refer, further increasing your earning potential.
Are there any geographic restrictions for joining the Bitstarz affiliate program?
There may be some geographic restrictions for joining the Bitstarz affiliate program, depending on the legal status of online gambling in your country. It is essential to review the program's terms and conditions and ensure that promoting online gambling is allowed in your jurisdiction.
How long does it take for my Bitstarz affiliate application to be reviewed?
The review process for Bitstarz affiliate applications may vary, but it typically takes a few business days for your application to be reviewed and approved. You will receive a notification regarding your application status once the review is complete.
Last update by James Sawyer :